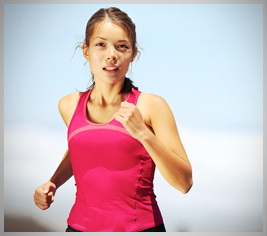 People have been practicing Chinese medicine for over 3,000 years.   The medicine is practiced not only in China, but all around the world.  Chinese medicine has helped people with many different health ailments, and has shown to be effective for all kinds of health conditions.   It has become one of the fastest growing professions here in the United States.   One may wonder with Chinese medicine so popular and so many people practicing it, what are the educations standards and licensing requirements?
First before I write more on the education standards. I think you need to know what Chinese medicine all entails.  Chinese medicine is a complete medical system for diagnosing and treating disease.  There are five main branches of Chinese medicine mainly acupuncture, Chinese herbal therapy, Chinese medical massage (tui na), nutrition, and exercise.  Here in the US most Chinese medicine practitioners practice acupuncture.  Acupuncture has become a popular and effective therapy here in the United States.  Though most practice acupuncture, Licensed Acupuncturists or Chinese medicine practitioners do so much more than just practice acupuncture.  We practice all of or other aspects of Chinese medicine such as herbal therpy and exercise.  Most states in the United States recognize those who have Chinese medical training as Licensed Acupuncturists.
So how do you become a Licensed Acupuncturist or Chinese medicine practitioner?  You must go to school.  In the old days Chinese medicine was passed on from a teacher to a student.  As time has gone by and Chinese medicine has become more uniformed, in order to get a License to practice you must go to school.
There are around 50 colleges and universities here in the US that accredited that offers the Masters degree in acupuncture or Chinese medicine.  All the colleges are 3-4 year masters programs with some that have doctorate programs. Most of the programs  takes around 3000 hours to complete training in acupuncture and Chinese medicine.
In order to get a license to practice acupuncture and Chinese medicine, you must graduate from an accredited school and take the national board exam called the NCCAOM.  The NCCAOM national board exams consists of Foundational Chinese medicine theory, acupuncture, Chinese herbs, and Western medicine.  It is a very difficult and comprehensive exam that tests competency to practice acupuncture and Chinese medicine.
There are other professions that are doing acupuncture such as Chiropractors, MD's, and Pt's; however, their training is limited and they don't go through the rigorous training that a Licensed Acupuncturist or Chinese medical practitioner goes through.
The CCAOM ( Council of Colleges of Acupuncture and Oriental Medicine) has categorized the different professions practicing acupuncture in this graphic.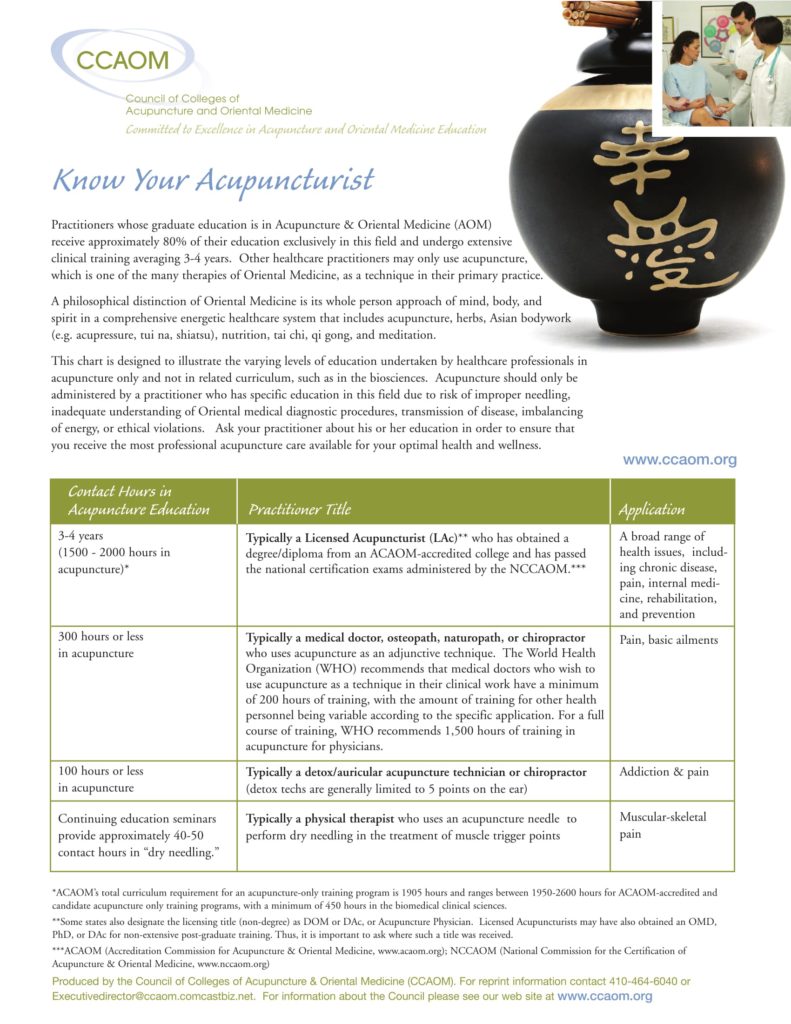 One aspect of education that entails more of the traditional ways is the apprenticeship.  Experience is very important in Chinese medicine.  After formal schooling learning with an experience practitioner and gaining experience will teach you and educate you on things that aren't taught in school.  Formal schooling combined with experience or apprenticing after school improves the clinical skills of a practitioner.
I hope that this helps when choosing a Licensed Acupuncturist.  Master Lu's Health Center's Licensed Acupuncturists in Salt Lake City all are licensed to practice acupuncture and Chinese medicine with the superb education and training.