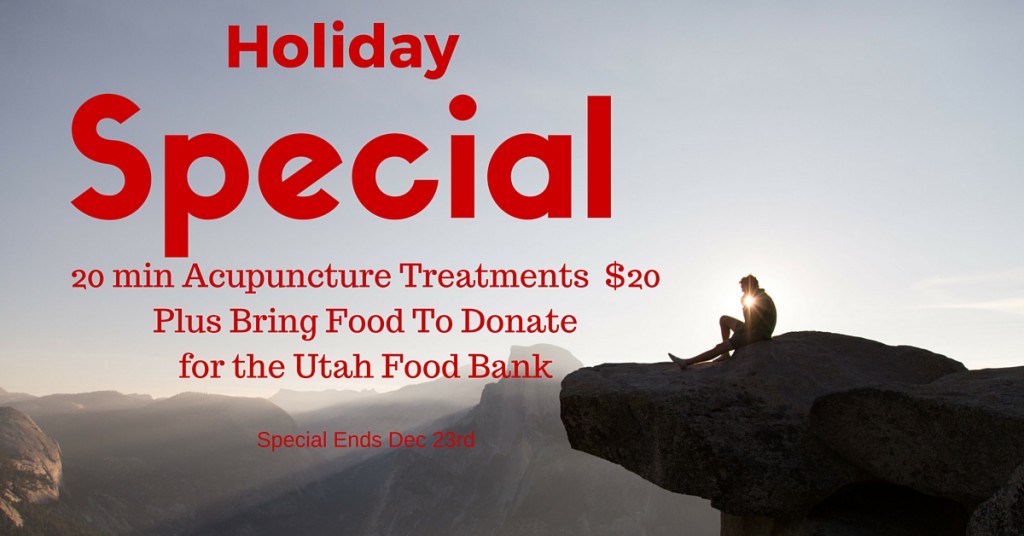 Have you been feeling stressed this holiday season?
Do you feel fatigued?
Are you having an increase in pain?
If you are feeling any of these problems or other problems related to your health and wellness, we can help you.  We are offering a limited time offer to help you feel balanced, energized, and less stressed during this holiday season.
Here is the deal… if you want some stress relief, pain relief, or feel better and balanced, we are offering a limited time special for acupuncture treatments.
Acupuncture  will not only help you feel better during this holiday season with all of the stress and sicknesses, but you will also help the community by donating food for the Utah Food Bank.
Acupuncture and Chinese medicine will help you many health conditions:
Chronic pain
low back pain
stress
fatigue
allergies
stomach disorders
women disorders
endocrine disorders
thyroid disorders
and many more
This offer runs until Dec 23rd.  Come and experience the power of acupuncture and Chinese medicine. Hurry and call Master Lu' s Health Center to schedule an appointment.