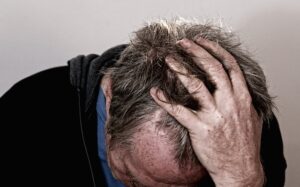 Master Lu's Health Center in Salt Lake City has treated depression utilizing acupuncture and Chinese medicine for over 35 years. Acupuncture is an effective and proven method to help you feel better and back your normal self.
One of the most common frustrations for those suffering from depression is the lack of motivation to do regular daily activities, an inability to find enjoyment and an overwhelming amount of negative thoughts. Depression cannot be simply cured by "mind over matter", but that does not mean it can't be treated and improved significantly. Depression is not an illness that one should have to suffer through alone, treatment and therapy can be crucial to the healing process back to better health
Along with treatment options you may be considering, small additions to your daily routine can prove to have significant effects on lowering depression symptoms over time.
Put yourself and your mental health first
It is easy to put your health on the backburner when life gets busy and stressful. Maybe you are hating the office job you have, or you're fighting with a spouse. When life gets tough, it is easy to neglect our bodies physically and mentally. Look at life in the larger terms and understand how you take care of your health now, will affect you for years down the road. If you are suffering from depression, seeking treatment is the first step back to better quality of life and can truly make all the difference.
Get a routine going
It may be hard to keep and be motivated about a routine. However, by setting goals and habits on a daily or weekly basis, you are continuing to improve upon your condition. Just stick with it. Try to set goals for exercise, if you can go on a jog just three days a week, you'll be boosting your serotonin, your mood and your physical health. Tai Chi has been effective to help with mood and depression. There are several studies that has shown Tai Chi will help with anxiety and depression. Take time to go outside in nature and get some fresh air. Depression is hard, but getting out of your normal environment can help you get out of your head for a bit. Practicing mindfulness is something everyone should do on a daily basis. Mindfulness involves focusing on the present moment and not the past or future. By doing so, we let go of anxieties we feel about the future or negative thoughts we have about the past, eliminating feelings of worry.
Reach out
Don't go through this alone. Chances are there are people in your life that love and care about you very much. Although it may seem hard to reach out or socialize, being around people can help you feel more connected. It is easy to isolate yourself when depression is consuming your mind and thoughts, but talking to friends and family can have profound benefits on beginning the process to better health.
If you feel that you are struggling with depression and would like to see if Chinese medicine and acupuncture is a fit for your give us a call at Master Lu's Health Center to schedule a free consultation. We are here to help you regain your life and to find peace and harmony.
Depression is not easy, but also doesn't mean it can't get better. Contact a medical professional about the best treatment options for you and consider alternative treatments such as acupuncture.